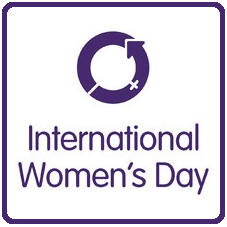 Friday March 4
Islamic Relief is holding a ladies event taking place at the Bristol Pavilion at 7pm as part of a 6 city tour. Women from all backgrounds are welcome to attend with the topic being 'Discover the Power of Love' of God, Creation & His Prophets. This is a free event, registration is required! To register click here.
Tuesday March 8
We're delighted to announce that registration to attend this year's Civil Service International Women's Day celebrations is now open! The theme for this year's events is 'changing perceptions'. You'll hear from women working in roles traditionally filled by men, who have challenged stereotypes in their careers & from civil servants who are changing perceptions as part of their job. The event is taking place in Concorde Conference Room, 101 Victoria Street. Please contact ashraf.uddin1@hmrc.gsi.gov.uk to register.
ICAEW has launched its International Women's Day event– afternoon tea at the Bristol Hotel.
A talk will take place by international female speaker Christine Brown Quinn on how to position ourselves, both personally and within the marketplace, between 4-6pm. ICAEW are supporting the local women's charity One25 & will make a donation of £2.50 from every ticket sold. Click here to book tickets. £20.50
Ana Maria Gonzalez Narvaez, a Fairtrade coffee & cocoa farmer from the Jinotega region of Northern Nicaragua, will be coming to Bristol during Fairtrade Fortnight 2016. Ana Maria is a single parent with a grown up son who also looks after two younger children for her neighbour. Ana Maria also grows beans & corn on her small holding & keeps goats. She has never travelled outside Nicaragua before & so BLINC is helping her obtain a passport! You can meet Ana Maria at an International Women's Day celebration gathering at La Ruca café, 89 Gloucester Rd 7.30-9pm. Only space for 40 so book your place here.
The University of Bristol Poetry & Creative Writing Society will be holding a Spoken Word & Music Night in the wonderfully cosy Falafel King on Cotham Hill, 7-10:30pm. Spoken Word and Falafel? What more could you ask for of a Tuesday evening! Entry is £5 OTD with all proceeds going to One25 & the women they support locally.
To celebrate International Women's Day, local author Lucienne Boyce will be speaking about her book "The Bristol Suffragettes." The event will take place 7-8:30pm at St George Library, Church Road. Light refreshments will be provided! As well as a chance to purchase the book at the end. For further information contact Denis Wise, Bristol City Library Service, denis.wise@bristol.gov.uk or on 0781 050 6916.
BLS is delighted to be the venue for the WLD Tea and Tiffin event to be held from 12.30-2.00 at The Law Library.It is sponsored by Paragon Costs Solutions.WLD will provide tea/coffee and tiffin so please join them for a relaxed & fun lunchtime networking opportunity to help celebrate International Women's Day. Please email WLDBristol@gmail.com with the words 'Tea & Tiffin' in the subject bar to sign up.
Wednesday March 9
Working together to improve access to domestic abuse services for survivors & victims of domestic & sexual abuse from the LGBT communities. This event will be an opportunity to learn more about the work done so far & to explore work going forward. Speakers include Sue Mountstevens, Police and Crime Commissioner, Berkeley Wilde, Director, Diversity Trust, Carol Metters, CEO, Next Link. Book via enquiries@nextlinkhousing.co.uk so as not to miss out on free lunch!! 12:30-4:00pm at The Station Conference Room. 
Join other women from around the world as we celebrate our existence & achievements as women & discuss a number of important empowerment issues. Contact organisers – RA Cultural Consultancy +44749822993 or LJR Pyramid +447437927037 for more details. A quiz has been organised with the chance to win a book voucher! Tickets available here.
Friday March 11
HUM is proud to present this amazing triple bill in the intimate setting of one of Bristol's most vibrant & celebrated venues; The Folk House.Three of the British folk scene's finest, most formidable & forthright female acts take to the stage to celebrate International Women's Day 2016. BBC 6 Music favourites & BBC Radio 2 Folk Awards 2015 Best Duo nominees O'Hooley and Tidow will be joined by BBC Radio 2 Folk Award Finalists Lady Maisery & the irrepressible Leicester songwriter Grace Petrie. Likely to sell out so book your tickets here! £11
An evening of dance to celebrate the many talents of performers, a rich mix of dancers & choreographers from a range of cultures and places! Starting at 7:45pm, followed by a panel discussion involving; Sue Davis (consultant) &  Donald Hutera (Times dance Critic & co funder of Chelsea Arts Collective) & more! For more information & to book tickets click here. £9.50, £8 concession.
Saturday March 12
Variegated Women are a feisty, folky voice & instrumental ensemble, with a passion for singing to promote change. With women's songs & songs speaking for peace & social justice, old and new, our hope is to communicate power, tenderness & fun involving the audience both as listeners and participants. Doors open 7:30 pm. Tickets £10 on the door.
A fun & exciting day of workshops, activities, stalls, music, speakers & more. Come and celebrate with us! Details are on our events page, plus we have a free crèche & free transport available. For more information please email info@bristolwomensvoice.org.uk. Our FREE event will be held 11am – 5pm at MShed, Princes Wharf, Bristol
Sunday March 20
Calling all Bristol Girls! Grandmas, aunties, sisters, mums and daughters -regardless of your age, ability, shape or size help us to raise money for Sport Relief by 'dancing through the decades' by following simple, fun, routines led by our fabulous instructors to sounds from the 70's, 80's, 90's, 00's and 10's. 1, 2,or 3 hours of grooving, you choose! 12:30-5:30pm Hengrove Leisure Centre. 
 Thursday March 24
Are you interested in social movements? Women? Anti-racism? Social Science in the City will be hosting a public reading & Question and Answer session with Prof Smadar Lavie of Berkeley University who will do a reading from her book entitled, 'Wrapped in the Flag of Israel'. The talk will focus on 'Gaza 2014 and the Mizrahi Predicament'. We will also have Dr.Narzanin Massoumi of Bath University speaking on her work Muslim Women, Social Movements and the War on Terror. Watershed, 6:30-10pm. Free event, please register here.
Is your event missing? Email us at info@bristolwomensvoice.org.uk and we will add it onto the programme!