Date/Time
Date(s) - 04/03/2017
11:00 am - 5:00 pm
Location
MShed
Category(ies)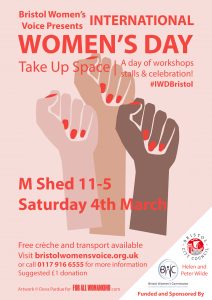 Bristol Women's Voice are proud to announce that Bristol's International Women's Day event will be held on the 4th of March at M Shed from 11am to 5pm. This year's theme is "Take Up Space" – women are under-represented in many spheres of life – whether that is political representation, as CEOs in private companies, in science and technology industries and even in the media. This year, we aim to challenge that narrative on International Women's Day – bringing women's voices to the forefront, and showing the value that women have in our city.
The day will be full of celebrations, fun workshops and activities. All women are welcome from around the city.There will be a free creche on the day as well as free pre-arranged transport services to collect and take home groups of women from across the city. For more information keep an eye on our Facebook event page Bristol Women's Voice or email info@bristolwomensvoice.org.uk.
Our programme of events is now available to view – you can download it here or view it below.