Date/Time
Date(s) - 08/03/2014
10:30 am - 5:00 pm
Location
M Shed
Category(ies)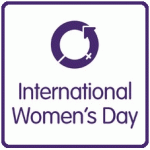 International Women's Day: Get Women Talking!
International Women's Day on March 8 is a day when women throughout the world mark our history of taking action for equality and to celebrate our lives. It began in 1908, when 15,000 women who worked in sweat shops marched through New York City demanding shorter hours, better pay and voting rights. In 1910 an international socialist conference declared International Women's Day and this has been taken up and celebrated by women throughout the world ever since.
On March 8 2014 at MShed Bristol Women's Voice are organising a day for Bristol women to come together to celebrate the many different ways we live our lives, and the skills and knowledge that we bring to our communities.
What's happening at MShed on March 8th?
On March 8 a day of activity will include short presentations from women's groups and campaigns, hands on workshops and activities, and entertainment by women performance artists and comedians. A crèche (Bristol Playbus!) will be available for small children. We are also organising Bristol Community Transport to collect women from around the city – get in touch if you have a group of women that would like to use this!
Local Bristolian woman, Maryanne Kempf of Ashley, Easton and Lawrence Hill Neighbourhood Partnership and shop manager of a local tattoo and piercing shop will be compereing the day, alongside Bristol Women's Voice's very own Barbara Brown!
Workshops and Activities will include:
11:30 AM -12:30 PM        Get Women Talking! Sharing Stories Workshop
2:00 – 3:00 PM                 Get Women Talking! Sharing Stories Workshop
The theme for the day is women celebrating and sharing our different lives. The aim is to help us renew and make new connections across our communities and networks, to develop our understanding and support for each other. Women are invited to join in at these two workshops to talk about what is special about their lives, their communities and their backgrounds. What one story would you choose to hand on to other women? Join in the circle to share an important story – your own, or one handed on through family/ancestors/mentors.  What did the story teach you? What can we and our children learn from it? You will have just five minutes to share your story before the golden spoon is passed to the next storyteller. There will be an opportunity for a short question and answer session at the end.
Bring a photo with you that represents what food means to you, your community and your background to share with us on the day!
10:30 A.M.
Qigong Taster (pronounced Chi Gung)
Qigong is a practice of aligning breath, movement, and awareness for exercise, healing, and meditation. Come and experience a taster session of gigong – no experience is necessary!
Learn some short, standing, movement exercises which are easy to follow and have lots of health benefits such as improved circulation and breathing, help with balance and are also helpful in releasing stress and promoting relaxation. It is suitable for any age and ability and can also be carried out seated in a chair, if necessary!
11:15 – 2pm        Feltmaking
Come and learn how to make beautiful colourful pieces of felt and take part in creating a shared story from women living and working in Bristol.
12:30-1:30           Mother in the Mother
Does the way you were mothered affect the way you raise your own children?'
Mother in the Mother is a Bristol based arts project, collecting mums stories and exploring relationships between female generations.
Find out more and add your story @ www.motherinthemother.co.uk
Come and join us to share your stories of motherhood.  We will making 3D stars celebrating your role as a mum and paper dolls representing yourself, your mother and grandmother
2pm–5pm            Patchwork Poetry
Join in this Patchwork Poetry taster to help produce one or more pieces of new collaborative poetry – we will provide poems to discuss and for inspiration, and participants will produce individual words that will be used to collectively 'write' the poems.
12:45 – 1:45pm          Breathing Fire Drama Workshop
Founded in Bristol in 2006 Breathing Fire is a company of Black women performers of Afrikan / Caribbean descent; we are committed to the empowerment of those historically denied a voice. We work with all communities performing Playback theatre and delivering drama workshops.
Join us for drama games and activities. Awaken your body, mind and soul as you discover ways to express yourself and connect with others. Our workshop will be fun, uplifting and energising and will allow you to communicate, connect and command your creativity!
3:00-3:30 P.M      Singing Workshop with Jules Olsen
Discover the joy of group singing with this fun, informal workshop. Bristol based vocal coach Jules Olsen will lead a couple of simple, but uplifting songs suitable for all. No previous music or singing experience necessary. Open to all ages – just bring your voice and give it a go!
3pm-4pm            World through a Window
This workshop takes the idea of ourselves as a window, looking out onto the world. It provides an opportunity to creatively explore, express and share individual experiences in a safe, unpressurized environment. 
We will have live musical performance from Sharleena Ray and a singalong with Lesley Welch! This will give you an opportunity to celebrate International Women's Day with us by joining in with this group singalong. This is an opportunity to bring our communities and networks together and collectively allow our voices to be heard! No previous singing experience necessary, just turn up and join in and celebrate with us!
We also will have spotlight speakers who will be highlighting issues and discussing relevant topics throughout the day. These will include:
* Dr Cezara Nanu, CEO of the Bristol Woman Magazine, will be launching the second edition of the magazine and talking about "Inspiring Change".
* Layla Ismail, Founder of Refugee Women of Bristol and works for FORWARD UK, will be talking about the Community Campaign against FGM –  her groundbreaking work raising awareness and tackling FGM in Bristol.
* Estella Ticknell will be asking ourselves the question, what does International Women's Day actually mean for us?
* Dr Pamela Treviwick will be speaking on 'Women, Activism and Poverty'.
* Julia Guest will be talking Feminine Spirituality and showing a small excerpt from her film: 'In her Image' available on vimeo at https://vimeo.com/ondemand/inherimage
* Jacqui Furneaux will be sharing her motorcycling adventures and encouraging confidence – 'don't be scared, do it anyway!'
* Penny Gane, chair of BWV and Bristol's Women's Commission will explain and inform you about the work of Bristol Women's Commission.Further, there will be the opportunity to sit and talk about the change you would like to see in Bristol with members of the Women's Commission including:
Jane Harrington, UWE

Sue Arrowsmith, First Group

Kalpna Woolf, BBC

Wendy Larner, Bristol University

Penny Gane, Chair
There will also be stalls from a variety of organisations in Bristol including:
Keep an eye on this page to find out more!
We will be collecting clothes donations on the day for One25 and women's shelters across the city. Please bring an item of clothing that you no longer use or need with you to support Bristol's homeless women.
The event is sponsored by Bristol City Council.